NZIOB & GIB® Awards for Excellence recognise 15 outstanding construction practitioners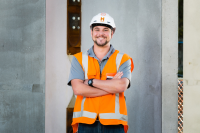 NZIOB & GIB® Awards for Excellence recognise 15 outstanding construction practitioners
The New Zealand Institute of Building (NZIOB) announced the winners of the 2016 NZIOB and GIB® Awards for Excellence on Friday, 26 August at a gala evening at the Pullman Hotel, Auckland. The awards, which are in their 23rd year, celebrate and recognise the professional excellence of individuals in the building and construction process, rather than the project or completed structure.
NZIOB chief executive Malcolm Fleming said, "The NZIOB congratulates all this year's winners and finalists. These awards contribute to the NZIOB's goal of improving the standing of the building profession by showcasing the commitment of those working in the sector to excellence.
"Past Award winners have included many of the construction industry's high achievers, consistent with the Award's stature, as does the fact that a number of past Young Achiever winners now hold very senior roles within the sector. The 2016 winners will likewise follow this trajectory."
The winner of the 2016 GIB® Supreme Award was Rodney Verhoeven, a project manager with Hawkins, for his role in managing the Walter Nash Centre. The new centre provides the Hutt City community with a sports facility and community hub, combining the Walter Nash Stadium with the Taita Community Hall and Community Library, and Hutt Valley netball courts in a single integrated facility. Rodney, who holds a National Certificate in Carpentry, demonstrated exceptional leadership and passion for the project. He overcame initial hostility towards the project by engaging the community and allowing them the opportunity to design and integrate artwork on precast panels. Rodney also provided view slots so locals could watch the project progress, and installed a platform so that a photographer could take progress photos for the client's website.
This year the judges awarded the BCITO Young Achievers Awards to two recipients: Annalise Johns and Glenn Jowett. Annalise is a Project Engineer with Fulton Hogan, Christchurch, and Glenn is the BIM Practice Lead with AECOM, Christchurch.
Annalise Johns' most recent construction achievement was her contribution to the successful delivery of the Christchurch Art Gallery base isolation external works. Her achievements have had a strong positive impact on young women within the company and wider industry, demonstrating the unique skills that women offer in construction and the built environment.
She holds a Bachelor of Engineering (Civil) with First Class Honours from the University of Canterbury. Annalise has also had a secondment to the Stronger Christchurch Infrastructure Rebuild Team (SCIRT) where she worked with the senior management team as innovations coordinator and in one of the design teams as a graduate structural engineer.
Glenn Jowett is the Building Information Modelling (BIM) Practice Lead – New Zealand for AECOM. Leading AECOM's BIM Consulting offering nationally, Christchurch-based Glenn works with clients to implement improved project and asset information management solutions and processes. He has become one of the leading figures within the New Zealand and Australian BIM communities, was a key contributor to the MBIE supported New Zealand BIM Handbook, and regularly writes articles and speaks at seminars in relation to BIM.
Glenn completed an apprenticeship in structural drafting in the UK, supported by two years' part-time study at Leeds College of Building where he achieved a Double Award Edexcel Level 3 National Certificate in Civil Engineering. Since relocating to New Zealand, he has attended and spoken at various conferences and seminars across Australia and New Zealand in relation to BIM.
The winners of the eight Project Cost Categories Awards were:
Resene Projects under $2.5 Million:
Winner: Ben Connick, Interiors & Special Projects Manager with Hawkins, Hamilton.
Project: Sky City Co-operative hospitality precinct project.
Steel Construction Projects $2.5-$5 Million:


Winner: Dave Corbett, Project Manager with Fletcher Construction, Auckland.




Project: Bledisloe Lane Upgrade.

Hays Construction Projects $5 - $10 Million:
Winner: Garyth Jones, Project Manager, Hawkins, Auckland.
Project: Pridelands Escarpment – Auckland Zoo.

Steltech Projects $10 - $25 Million:
Winner: Rodney Verhoeven, Project Manager, Hawkins, Wellington.
Project: Walter Nash Centre, Hutt City.
Winner: Declan Scanlon, Project Manager, Fletcher Construction, Christchurch.Project: Te Hapua: Halswell Centre.

Holcim Concrete Projects $25 - $50 Million:
Winner: Jimmy Corric, Project Manager, NZ Strong Group Ltd, Auckland.
Project: LynnMall Redevelopment.
Winner: Bruce Halligan, Senior Construction Project Manager, Arrow International (NZ) Ltd.
Project: Remarkables Base Building, Queenstown.
Hilti Projects $50 - $75 Million:


Winner: Kevan Bird, Project Manager, Arrow International (NZ) Ltd, Auckland.




Project: Vodafone Rural Broadband Initiative Rollout.

Metro Performance Glass Projects $75 - $100 Million:
Winner: Gerard Anderson, Project Manager, Fletcher Construction, Auckland.
Project: Fonterra Head Office and VXV3 Development.

Aecom Projects over $100 Million:


Winner: Peter Lawson, Project Director, Fletcher Construction, Auckland.




Project: NorthWest Shopping Centre, Auckland.
Jeff Robertson won the Site Safe Safety Excellence Award 2016 for his work on the King's College Centennial Project, Jeff is a Project Manager with Aspec Construction Ltd in Auckland; and the 2016 James Hardie Innovation Award was won by Dave Corbett, a Project Manager with Fletcher Construction in Auckland for the Penrose Campus Redevelopment and Industrial Buildings Demolition in Auckland.
Simon Barnes, the Convenor of the Judging Panel, congratulated all those who entered this year's
NZIOB and GIB® Awards for Excellence. He said that the standard of entries was again impressive, and the eventual winners were justly outstanding and worthy of award recognition.
The NZIOB recognises the support the winners have received from their companies, teams and families, which has allowed them to deliver world class construction projects to their clients and the wider community.
ENDS
About the New Zealand Institute of Building
The New Zealand Institute of Building (NZIOB) is the professional institute in New Zealand for building and construction professionals, those who are involved in the Design, Documentation, and Delivery of construction projects. The NZIOB is acknowledged for their ability to bring individuals together, whom share a common interest; in improving the standing of the building profession, and a commitment to the practice of excellence in their career.
NZIOB members are skilled managers and professionals engaged in building practice in a managerial, technical, or administrative capacity in construction, installation, designs or survey, and for those engaged in the teaching, science and practice of building and building research.
The NZIOB is an articulate and reliable advocate for the construction industry, and works with construction industry stakeholders, government, tertiary faculties and media to promote the building profession.
About the NZIOB & GIB® Awards of Excellence
Established in 1994, the NZIOB & GIB® Awards for Excellence are the only New Zealand Building Industry Awards that celebrate and recognise an individuals' professional excellence in the building and construction process, as opposed to recognising and awarding the project or completed structure.
The awards are open to any individual or team in the Built Environment whose personal attributes have contributed to the success of a project and who demonstrate individual or team excellence in:
Management methods and technique;

Degree of project complexities;

Any innovations developed during construction process;

Relationship with the client, architect, authorities, community and work force (employees, suppliers, subcontractors, etc.);

Delivery of quality outcome of the completed project; and

Project completion on time and within budget.
Simon Barnes was again the Convener of Judging. Simon is a Quantity Surveyor with 39 years' experience across a wide range of commercial, residential, industrial and retail developments.
Judging is done in two stages over a two month period by a judging panel made up of experienced people from a cross section of the New Zealand Construction Industry.
This year's awards involved 56 judges from throughout the country in the selection process and NZIOB is extremely grateful for the enormous amount of time and personal effort the Judges bestow on the annual Awards for Excellence.