Tommy's appoints Harrison Vaughan to head new Property Management Division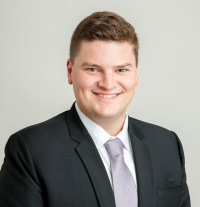 Tommy's appoints Harrison Vaughan to head new Property Management Division
Tommy's Real Estate has appointed Harrison Vaughan to a newly created role as head of Tommy's Property Management Division.
Tommy's Managing Director David Platt said, "Investment buyers are an important part of our business and for some time we have considered establishing a property management service to meet the needs of this group of buyers. In Harrison, we have found someone with the necessary skills and qualities to head a small team offering a personal 'hands-on' boutique service that will expand as demand dictates.
"Each year we sell in the order of 1,000 residential property from our City Office alone and, with the growth in the rental market, a number of new owners are seeking reliable property and tenancy management. We are pleased to be able to now offer landlords the services of our newly created property management division."
A Wellingtonian, Harrison attended Wellington College and earlier this year completed a Bachelor of Commerce at Victoria University of Wellington majoring in Marketing and Information Systems. He started his career at Tommy's in an administration role and then became Tommy's Information Technology Manager while completing his degree.
"Harrison has been with Tommy's since 2012 and brings a fresh and energetic approach to property management together with a passion for the industry. His commitment and investor mindset make him the ideal person for building enduring relationships with Tommy's property investor clients," David Platt says.
Ends
About Tommy's Real Estate
Established by Tommy Heptinstall and David Platt in May 1999, today Tommy's has 45 sales consultants and is responsible for some 30% of residential property sales in Wellington city.
In 2015, Tommy's Wellington won the Real Estate Institute of New Zealand (REINZ) award for selling more properties from a single office than any other agency in New Zealand.
The two founding principals had worked in the Wellington real estate market for years, so knew the industry's strengths – and weaknesses. They wanted an agency with a difference – the best and kindest real estate agency in New Zealand, an agency that broke the mould. A company where the culture was based on ethics and values, one that attracted the best listings – and the best people. A real estate agency committed to providing unsurpassed service for buyers and vendors, getting clients the best price and making the process as stress-free as possible.
Tommy and David knew it could be done and that's the way it's operated since Tommy's first opened for business. That's why Tommy's Real Estate has become one of Wellington's leading real estate agencies, and why the city office won Top Sales Award from a single office for the entire country in 2015.