ThunderMaps wins New Zealand Spatial Excellence Award for Export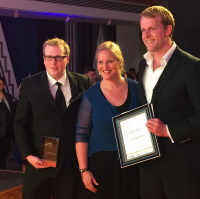 ThunderMaps wins New Zealand Spatial Excellence Award for Export


ThunderMaps the Wellington-based provider of off the shelf mobile reporting software won the Spatial Industries Business Association Award for Export at the 2016 New Zealand Spatial Excellence Awards.
The Awards were announced at a gala dinner held at Te Papa Tongarewa in Wellington on Wednesday, 16 November, and were presented by the Minister of Land Information, Hon Louise Upston.
ThunderMaps' Managing Director Clint Van Marrewijk says, "Winning the Award for Export at the Spatial Excellence Awards, a national GIS industry event, is fantastic and a credit to the ThunderMaps team.
"Although ThunderMaps is a specialist GIS app provider, we don't usually even mention the term 'GIS' with clients. Instead, we try to focus on the solution we provide – a safer world and engaged and informed cities. Never-the-less it was great to mix-and-mingle with our peers and learn from experienced GIS professionals that know much more about the history of GIS and breadth of the GIS industry. All things considered, this win is really a tribute to our inspirational development team, and the world-leading product they have produced together."
For a list of all 2016 New Zealand Spatial Excellence Award winners, see: www.nzspatialawards.org.nz/winners
ENDS
About ThunderMaps
Established in 2012, ThunderMaps is a leading provider of off the shelf mobile reporting software.
It makes applications targeted towards improving health and safety in organisations, and communication tools for governments and organisations.
ThunderMaps services tens of thousands of users in 11 countries, and has offices in New Zealand, Sweden and the United Kingdom, contracts with governments, cities and large businesses.
For more information, see: www.thundermaps.com


About the New Zealand Spatial Excellence Awards
The New Zealand Spatial Excellence Awards seek out and give recognition to the best, the high achievers, and the contributors who set the benchmarks that others will follow, becoming the role models for the next generation of the spatial profession.
The Awards are a joint venture between the spatial profession, business and government to hold annual awards for all sectors, disciplines and communities that make up the spatial industry. Each partner contributes its resources and expertise to make sure the awards reach the highest standards of excellence and independence.
NZSEA provides a stepping stone for organisations and individuals to be nominated in the AsiaPacific Spatial Excellence Awards (APSEA) – the only awards for the Asia Pacific region that recognise the excellent achievements of both individuals and organisations engaged in the spatial information industry.