Special Wellington Cinema Screening of Visionary Director Bong Joon Ho's acclaimed film OKJA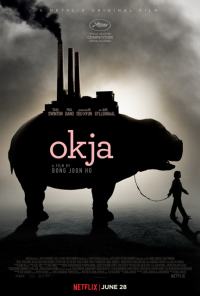 Special Wellington Cinema Screening of Visionary Director Bong Joon Ho's acclaimed film OKJA on 1 October

The Embassy of the Republic of Korea is pleased to confirm there will be a special Cinema screening of OKJA at 3.00pm on Sunday, 1 October. This sold out public screening will be held at the Roxy Cinema, 5 Park Road, Miramar.
Starring an international cast including Tilda Swinton, Jake Gyllenhaal, Paul Dano, Steven Yeun, Lily Collins, Giancarlo Esposito and An Seo Hyun, OKJA was an Official Selection of the 70th Cannes Film Festival receiving a standing ovation, and was the Closing Night Film at the 2017 Sydney Film Festival.
OKJA tells the story of a young Korean girl Mija (An Seo Hyun) who for 10 years has been caretaker and constant companion to Okja — a massive animal and an even bigger friend at her home in the mountains of South Korea. But that changes when a family-owned multinational conglomerate Mirando Corporation takes Okja for themselves and transports her to New York, where image obsessed and self-promoting CEO Lucy Mirando (Tilda Swinton) has big plans for Mija's dearest friend. With no particular plan but single-minded in intent, Mija sets out on a rescue mission, but her already daunting journey quickly becomes more complicated when she crosses paths with disparate groups of capitalists, demonstrators and consumers, each battling to control the fate of Okja… while all Mija wants to do is bring her friend home.
Deftly blending genres, humour, poignancy and drama, Director Bong (Snowpiercer, The Host) begins with the gentlest of premises, the bond between man and animal and ultimately creates a distinct and layered vision of the world that addresses the animal inside us all.
Korean Ambassador His Excellency Mr Seung-bae Yeo, on behalf of the Embassy of the Republic of Korea, said: "This is a unique opportunity to share with our New Zealand friends Korea's internationally ranked Director Bong Joon Ho's latest film on the Cinema screen in New Zealand.
"This and other New Zealand special screenings has only been made possible with the kind support of Park Road Post and the work of Korean Cinerama Trust, which aims to showcase the best of Korean Films in New Zealand, and build greater Screen industry linkages between the two countries." Mr Seung-bae Yeo said.
Michael Stephens, the Chair of the Korean Cinerama Trust said, "It is particularly pleasing also to know the film has a New Zealand connection, with the Sound Design Post production work for OKJA undertaken by Wellington-based Sound Designer Dave Whitehead, who has worked previously with Director Bong and on other Korean films."
The official trailer of OKJA can be seen at https://www.netflix.com/nz/title/80091936 . OKJA is a Plan B Entertainment, Lewis Pictures and Kate Street Picture Company production, in association with Netflix.
ENDS