Plus4 extends its Wellington presence with the appointment of Thurl Gibbs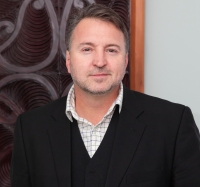 Plus4 extends its Wellington presence with the appointment of Thurl Gibbs
Plus4 Insurance Solutions (Plus4), the national insurance advisory and financial services group, today announced that Wellington adviser Thurl Gibbs has joined the group. Thurl has extensive experience in the financial services sector and has held senior roles in sales, management, and marketing.
After completing a BCA from Victoria University of Wellington in Marketing and Law, he worked for National Mutual who were brought by AXA. He was then offered a role at the Bank of New Zealand-Retail Financial Services. Senior management roles with Telecom New Zealand and New Zealand Post followed before he moved offshore and gained five years' experience working in London in the Internet and Logistics fields with InfoSpace and Deutsche Post respectively.
Thurl returned to New Zealand in 2006 and, after several sales and marketing roles with consultancies and his own company Bravardo, he joined Asteron Life as a Business Development Manager and subsequently as Regional Sales Manager, Central.
A Registered Financial Adviser (RFA), he provides personal and business financial risk solutions incorporating the use of life insurance, income protection, disability, trauma and health insurance, and advice to businesses on key person protection and group insurance plans. He also provides Fire and General insurance solutions to families and businesses; and maintains regular contact with clients through ongoing meetings and reviews.
Thurl works with a diverse range of clients including professional firms, independent clients, and small business operators. He joined Plus4 Insurance Solutions to provide his clients with the collective benefits of belonging to a national insurance adviser and broking group.
Plus4's Group General Manager Peter Standish said, "Thurl is an intelligent and experienced financial services professional. Given that Plus4 is a cooperative, the only specialist insurance and financial broking firm who is a member of the NZ Cooperatives Association, we are very selective about whom we ask to join our group. Our members need to not only have the necessary experience and expertise but also share our values. We are pleased to welcome Thurl to Plus4."
Established in Nelson in 2008, Plus4 now has 45 advisers working from 18 locations between Whangarei and Invercargill. Group members, who have no affiliations to any specific insurance provider, offer unbiased advice tailored to their individual and business clients' requirements. They work predominantly with small to medium-sized enterprises, their owners and their accountants.
ENDS