Eternity Opera announce their 2018 programme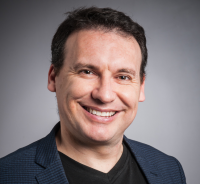 Eternity Opera announce their 2018 programme: a concert performance of Orfeo in August and season of Madam Butterfly in November
After their critically acclaimed productions of Don Giovanni in 2016 and The Marriage of Figaro in 2017, Eternity Opera Company is returning with two productions for 2018. A concert performance of Monteverdi's 1607 opera Orfeo on 4 August and a fully staged production of Puccini's 1903 masterpiece Madam Butterfly from 17-24 November.
Eternity Opera Company brings opera productions to Wellington audiences that can be enjoyed by everyone – from opera fans to first-timers.
Eternity Opera Director Alex Galvin said, "This year we're expanding to two productions and are very much looking forward to an exciting operatic year ahead.
"Our productions are all sung in English, in smaller venues and we try to ensure tickets are reasonably priced while keeping the quintessential things that makes opera great: talented singers, a top-notch orchestra and beautiful set designs, and costumes. Eternity Opera Company was established to support the many talented singers and musicians in the Wellington region and provide opportunities to showcase their talent."
Based on the Greek legend of Orpheus, Orfeo tells the story of Orpheo's descent to the underworld and his fruitless attempt to bring his dead bride Eurydice back to the living. Now over 400 years old, 'Orfeo' has lost none of its beauty and power and is a milestone in the evolution of opera.
Performed in English by top New Zealand singers, Orfeo will be conducted by Simon Romanos with support from the Eternity Chamber Orchestra led by former NZ String Quartet violinist Doug Beilman.
Madam Butterfly follows the title character; from the young bride who renounces her religion to embrace all things American, to the strong young mother who returns to her culture and the code of honour that governs her tragic destiny.
With gorgeous period costumes and designs, and featuring much of Puccini's most lyrical music, including the Humming Chorus, Flower Duet, the stunning aria in 'Un bel dì', and finishing with a spine-tingling climax.
Also performed in English by a cast of talented New Zealand singers, Madam Butterfly will be directed by New Zealand film director Alex Galvin and conducted by Matthew Ross, with support from the Eternity Chamber Orchestra.
Both productions will be performed at Wellington's Hannah Playhouse.
Alex Galvin says auditions for both two productions will take place on the evening of Wednesday, 11 April in Wellington, and singers can email Minto Fung at minto.fung@gmail.com to register interest and arrange a time.
ENDS