Crown Wins Best Vendor Partnership for Global Mobility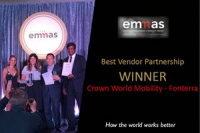 Crown Wins Best Vendor Partnership for Global Mobility
Crown World Mobility (NZ) are the proud winners of the 'Best Vendor Partnership' title at the acclaimed 2017 Expatriate Management and Mobility Awards (EMMAs) event in Hong Kong. Crown World Mobility (NZ) is part of the Crown Worldwide Group, one of the world's largest relocations companies with offices in over 60 countries.
The annual EMMA awards are the gold standard for the mobility and relocations industry. They are dedicated to celebrating best practice and outstanding contributions to global mobility. The EMMA Awards showcase the best and brightest achievements. The 'Best Vendor Partnership' nominations recognise vendor relationships that support the client organisations strategies and deliver ongoing innovation and relocation solutions.
Crown's nomination for 'Best Vendor Partnership' was forwarded by the Fonterra Cooperative Group. Crown work closely with Fonterra to annually manage hundreds of transfers and global assignments, with the shared objective of enabling talented individuals to do the best work of their lives. It's all managed from New Zealand with Crown calling on their international offices and subject matter experts to provide support across the entire Fonterra global footprint.
The EMMAs are judged against a strict set of criteria and the competition in this category was fierce with six globally recognised industry leading Mobility companies shortlisted in this category.
While confirming Crown's win, the judging panel had this to say: "Clearly Crown is very embedded in the account and has established a strong partnership. Good use of leveraging Crown's global presence and buying power to reduce vendor costs. The 'PA for the day' service is a very simple yet effective innovation and something I am sure Crown roll out in other locations."
Crown Country Manager James Logan says he is delighted with the win: "It's very satisfying to see the professionalism and dedication of our locally based mobility team being recognised and lauded by their international peers. They do outstanding work and this win is well deserved."
ENDS