Christchurch Fashion label GEOJ OFFICIAL to showcase in New York & Milan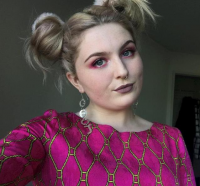 Christchurch Fashion label GEOJ OFFICIAL to showcase in New York & Milan
GEOJ OFFICIAL, the fashion label created by 18-year old Georgia Hensley-Smith will be featuring at this year's New York and Milan Fashion Weeks in September.
Georgia, who last year graduated from the Hagley College School of Fashion, will show two six-outfit collections at both the New York and Milan Fashion Week shows. The New York Fashion Week is being held at Studio 450 in midtown Manhattan takes place on 8 September and the Milan Show at Hotel Principe di Savoia, one of Milan's most iconic 5-star luxury hotels on 22 September 2018.
This follows Georgia's successful showing at the New Zealand Fashion Week (NZFW) in August last year. GEOJ OFFICIAL has also featured at the 2016 Canterbury Fashion Week and 2017 Auckland Fashion Week.
The opportunity to go global arose during the New Zealand Fashion Week in August last year, New Zealand's biggest fashion event where she showed a 10-outfit collection.
Georgia says, "During the chaos of NZFW, I was contacted by the Oxford Fashion Studio and invited to participate in Fashion Week in four major cities around the world. Because I was already in NZFW and the deadlines were already tight, reluctantly I had to turn them down. However, when they came back asking me to consider taking part in September 2018, I was delighted to accept.
"This is a big step for me and provides a whole new set of challenges. That said, I am confident that we will be successful given the reception I've received for everything I've created and achieved to date.
"The Milan Fashion Week collection features a beautiful combination of neutral tones, high-quality fabrics and a hint of iridescent magic. Our main fabric is a mixture of silk and wool, that drapes and falls beautifully. It is sure to make the wearer feel like royalty.
"The New York Fashion Week collection is our boldest yet. It features a bright and eye-catching print, with tailored pieces.
"The pieces are designed to be mixed and matched. Worn together or separately, they will put anyone on the best-dressed list," Georgia says.
GEOJ OFFICIAL was created in 2016 when Georgia was 16 and in her first year of Fashion Studies at Hagley College. She says she's always known that she was destined to have a career in the fashion industry.
"Dropping my mainstream English and Maths subjects at the age of 16 to study fashion fulltime was quite possibly the best possible choice I've made, and from there I have followed my dreams. One of my early projects allowed me to create a mini collection for the Hokonui Fashion Awards and I jumped at the opportunity. I completed three full outfits in a fabric with a very bold print and colour.
"Thankfully the collection was a success and gathered a lot of attention from friends and people around New Zealand, and some overseas interest, from sharing my work on my online platforms," Georgia said.
Georgia says, "I would like to acknowledge the support I have received from Christchurch theatre producers Craig Hutchison and Ali Robb. Without Craig and Ali's help, their mentoring and guidance, I wouldn't be going to New York or Milan.
"I believe if you have a goal, you can achieve it. Everything I've thought of doing so far has happened despite any obstacles. If you're passionate and believe in yourself as well as your abilities, you will succeed!"
ENDS