Carrello del Gelato previews its Wellington on a Plate 'Sweet As' Kiwi Burger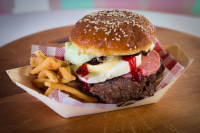 Carrello del Gelato previews its Wellington on a Plate 'Sweet As' Kiwi Burger
Wellington-based premium gelato producer Carrello del Gelato will offer its take on the renowned Kiwi Burger at this year's Visa Wellington On a Plate (VWOAP).
Their 'Sweet As' Kiwi Burger comprises a puffed rice and chocolate gelato patty, gelato egg, sorbet tomato, plum beetroot, candy floss lettuce, white chocolate cheese and raspberry ketchup on a doughnut bun. The nut-free, vegetarian burger will go on sale on 10 August and be available for the duration of VWOAP for $16 with the option to make a combo by adding chips and a shake from the Gelato Concept Store at 228 Oriental Bay.
Carrello del Gelato's chief executive Nathan Meyer said, "VWOAP has been embraced by Wellingtonians: it's a fun event that enables you to get closer to Wellington's cafés, restaurants and artisan produce suppliers, and try different taste experiences. We look forward to seeing old friends and making new ones at this year's VWOAP.
"The garage project burger challenge is huge, and we love the creative process of making a sweet dessert burger look just like a real burger with sweet products"
Carrello del Gelato's It's a Sweet Life', where kids have a hands-on experience learning how to make authentic gelato at the company's factory, sold out within minutes of going online again this year.
Using authentic Italian methods & recipes, Carrello del Gelato craft the finest, authentic gelato and sorbets in their purpose-built factory in Newtown. They use fresh New Zealand and authentic Italian ingredients to create each batch just before delivery to you, so it is as fresh as it can be.
The company has won numerous accolades for its products including recognition at the New Zealand Ice Cream Awards.
ENDS
About Carrello del Gelato
Established in 2004 by Nathan Meyer, Carrello del Gelato is New Zealand's premium gelato provider with an unrivalled track record in delivering the highest quality and most authentic gelato in the country.
Since its inception, production has grown from 20 litres per week to over 1,500 litres today, making the company one of the largest independent gelato makers in New Zealand.
The product range has over 200 delicious flavours using only the finest natural ingredients from New Zealand and around the world.
Over 100 leading New Zealand cafés, restaurants and food outlet stores stock Carrello del Gelato.
The retail range includes single serve 125 ml and 1 litre packs and 5 litre packs for the food trade.