e-Spatial appoints a Christchurch-based consultant - Dr Kathryn Salm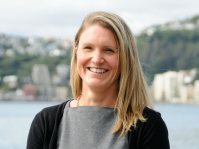 e-Spatial appoints a Christchurch-based consultant - Dr Kathryn Salm
e-Spatial, the independent spatial consultancy firm, today announced that they are extending their presence in Christchurch with the appointment of a locally based consultant Dr Kathryn Salm.
e-Spatial has begun partnering more with clients located in Christchurch, having recently won contracts to work with Christchurch City Council and the University of Canterbury. They currently have long-term relationships with other Canterbury-based customers including Farmlands and Environment Canterbury. These organisations all see the value of spatial and want to maximise its benefits to their company and customers.
Dr Salm will be the main contact for Christchurch-based clients. She was previously with e-Spatial in Wellington for three years, and re-joins after a two-year hiatus.
Dr Salm has a PhD in Science and a BSc (Hons) in Environmental Science from the University of Canterbury. Her particular strengths are in strategy, design thinking, business case development and leading collaborative project teams. Her experience spans geospatial across government, industry and education/research. She enjoys working in the space within and between the three as a connector, helping them share data and ideas. Kat is also interested in the application of geospatial for future challenges including smart cities and intelligent transport.
e-Spatial's Managing Director, Simon Jellie, says "Having a Christchurch-based presence will further enhance e-Spatial's ability to connect with our customers on a regular basis. It will also allow us to link like-minded clients for the benefit of both. Kat has a real ability to be able to simplify complex situations and problems, and present clear solutions, and we are very fortunate to have her back at e-Spatial."
ENDS
About e-Spatial
Established in 1998, e-Spatial has grown to become New Zealand's leading independent spatial consulting firm. They partner with enterprise and government agencies to maximise the benefit of spatial to their business. They link location knowledge and business intelligence to help organisations make better decisions and better serve their customers. With consultants conversant not only in spatial technology, but also in business and ICT, they can understand the various facets of the spatial environment and develop and communicate the best solution that can be understood across the business.
e-Spatial has experience in providing high-level future strategy for clients, to guide their decisions and keep them informed of new technology directions. They ensure that any strategies developed take into account new technology and new directions in the industry to ensure that future directions are innovative, effective, flexible and future-proofed.
For more information, see: http://www.e-spatial.co.nz/