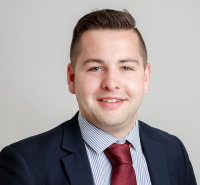 Tommy's Property Management appoints Jack Vale as Business Development Manager
Tommy's Property Management, the property management division of Tommy's Real Estate has appointed Jack Vale to a newly created role of Business Development Manager.
Jack's role as a business development manager is to source and attract new business for Tommy's Property Management and work with landlords to help them grow their investment portfolio.
Tommy's Managing Director David Platt said, "Investment buyers are an important part of our business and we established the property management division to specifically meet the needs of this group of buyers. Jack's background in direct sales and marketing, combined with his energy and enthusiasm for the property industry means he is well-equipped to provide expert advice to landlords and investors, and help them maximise their return on their investment.
"Jack joins Harrison Vaughan who head's Tommy's Property Management and together they offer a personal 'hands-on' boutique service that will expand as demand dictates."
Prior to joining Tommy's Real Estate, Jack worked as a fundraiser for New Zealand based charities and coached cricket for Wellington College and as part of the Cricket Wellington programme for secondary school students. He also played cricket for Wellington youth squads and for Formby, part of the Liverpool premier league.
Jack was educated at Spalding Grammar School in Lincolnshire and subsequently at Wellington College when he moved to New Zealand.
"Each year we sell in the order of 1,000 residential property from our City Office alone and with the growth in the rental market, a number of new owners are seeking reliable property and tenancy management. Tommy's Property Management division has been well-received by landlords, offering a one-stop shop for managing their property portfolios. Jack's passion for property and customer-first approach make him a welcome addition to the team," David Platt said.
Ends
About Tommy's Real Estate
Established by Tommy Heptinstall and David Platt in May 1999, today Tommy's has 39 sales consultants and is responsible for some 35% of residential property sales in Wellington city.
In 2015, Tommy's Wellington won the Real Estate Institute of New Zealand (REINZ) award for selling more properties from a single office than any other agency in New Zealand.
The two founding principals had worked in the Wellington real estate market for years, so knew the industry's strengths – and weaknesses. They wanted an agency with a difference – the best and kindest real estate agency in New Zealand, an agency that broke the mould. A company where the culture was based on ethics and values, one that attracted the best listings – and the best people. A real estate agency committed to providing unsurpassed service for buyers and vendors, getting clients the best price and making the process as stress-free as possible.
Tommy and David knew it could be done and that's the way it's operated since Tommy's first opened for business. That's why Tommy's Real Estate has become one of Wellington's leading real estate agencies, and why the city office won Top Sales Award from a single office for the entire country in 2015.