Outstanding Dinner at Award Winners Restaurant – La Pancetta, Greytown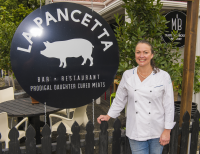 Wairarapa award-winning charcuterie specialist and butcher Rachel Priestley is hosting the first Outstanding Food Awards Dinner at her Greytown restaurant, La Pancetta.
Rachel Priestley, aka The Prodigal Daughter, makes fresh salsiccia (sausage) and cures whole cuts for Pancetta, Prosciutto, Coppa and Bresaola. The Prodigal Daughter uses free range Longbush pork for her fresh salsicci and other products, depending upon availability, all small goods are made using traditional Italian methods with no preservatives, sugars or nitrates.
Recognising the superior flavour such time-honoured tradition creates, in April The Prodigal Daughter's Spicy Sicilian Sausage was named Paddock Crafted Winner in the inaugural Outstanding Food Producer Awards. The Prodigal Daughter's Spicy Sicilian Sausage uses free range Longbush pork which is coarse-cut and enhanced with back fat spiced with cumin, coriander, chilli and paprika and it will feature on the dinner menu. The Prodigal Daughter was also an Outstanding NZ Food Producer Awards finalist for her Coppa and Bresaola.
As well as making salumi, Rachel is chef/owner of La Pancetta in Greytown's beautiful Wakelin House and will host the first dinner in the nationwide Outstanding Food Producer Dinner Series. The four-course dinner matched with award-winning wines and craft beer will be held at La Panceatta on Friday 21 July.
The dinner celebrates our hard-working food producers and showcases winning products from the 2017 Outstanding NZ Food Producer Awards. Rachel Priestley's philosophy is using quality, organic local ingredients and she is planning a menu which celebrates the Wairarapa and its surrounds. Expect to enjoy produce from The Prodigal Daughter, The Clareville Bakery, Absolute NZ Meat, Jersey Girl and more.
WHEN 6.00pm for 6.30pm, Friday 21 July
WHERE La Pancetta, Wakelin House, 123 Main Street Greytown
TICKETS $110 for four courses matched with wines and craft beer
BOOKING https://outstandingfoodproducer.nz/events/
ENDS