Leading Advocate for the Hard of Hearing to speak at Fundraising Institute Conference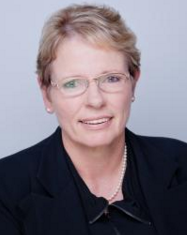 NEWS RELEASE: 7 March 2016

Louise Carroll QSO, the Chief Executive of The National Foundation for the Deaf Inc. will be a guest speaker and presenter at the upcoming annual conference of the Fundraising Institute of New Zealand (FINZ). She will present at the Conference's CEO Forum on Wednesday 13 April and co-lead a workshop with the Foundation's Fundraising Manager Lorien Doherty on Friday 15 April.
FINZ's Marketing and Education Manager Sheridan Bruce, who is organizing the FINZ Conference said, "We are delighted Louise has agreed to attend and speak at this year's conference. Not only is she a passionate advocate for the hard of hearing but she has wide experience as a fundraiser for her cause."
Fundraising is particularly challenging for The National Foundation for the Deaf because they receive no Government funding. Like many other good causes, in order to address the issues facing the deaf and hard of hearing, they are dependent upon their fundraising programme being well conceived and successful.
Louise Carroll says, "We fundraise using every stream including direct marketing, event marketing, and cause marketing, right across the board. Diversification is key because if there is a downturn in one area we always have support in another. And it gives the public the opportunity to support us in the way they prefer."
Sheridan Bruce says, "Louise is a role model for fundraising and fundraisers. She absolutely understands that without a successful and diversified fundraising programme, the organisation she leads would not exist. While the work The National Foundation for the Deaf does is on behalf of the deaf and hard of hearing, the Foundation is in the fundraising business.
"Fundraising enables philanthropy or good works to happen, it is the powerhouse and enabler of most not-for-profit organisations that make our communities better places for all New Zealanders."
The annual FINZ Conference is the premier learning event for fundraisers, charity and community sector leaders, and those doing great things for good causes. This year's Conference runs from Wednesday, April 13 to Friday, 15 April and is being held at Auckland's Waipuna Hotel and Conference Centre. The associated CEO's Forum will run concurrently on the Wednesday. For more information about this year's conference.