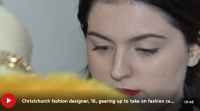 Christchurch fashion designer, 18, set to take New York and Milan fashion weeks by storm
See 1 News item: https://www.tvnz.co.nz/one-news/new-zealand/christchurch-fashion-designer-18-set-take-new-york-and-milan-weeks-storm
She's just 18, but a Christchurch fashion designer is taking her work to some of the world's most prestigious events.
Georgia Hensley-Smith, the creator of label Geoj, has been invited to unveil two new collections at Milan and New York Fashion Week, which begins next month.
The offer was made during her debut show at New Zealand Fashion Week last year, and she's taken the time to put together what she hopes will break new ground.
"This is a big step for me and provides a whole new set of challenges. That said, I am confident that we will be successful given the reception I've received for everything I've created and achieved to date," Ms Hensley-Smith said.
"The pieces are designed to be mixed and matched. Worn together or separately, they will put anyone on the best-dressed list."
Although the event is specifically for newcomers, Ms Hensley-Smith hopes her brand will someday become a household name.
Source: 1 NEWS