Adrenalin Forest Launches CLiC-iT PRO 60 – a revolutionary fall protection system for industry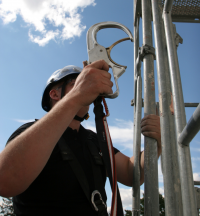 Adrenalin Forest Launches CLiC-iT PRO 60 – a revolutionary fall protection system for industry

Adrenalin Forest, the New Zealand agent for CLiC-iT[1] has launched the CLiC-iT PRO 60 product in this country. CLiC-iT PRO 60. This is a revolutionary personal fall arrest system specifically designed for industrial applications.
Two years ago, Adrenalin Forest adopted the innovative French safety system, the CLiC-iT 21 product across his three adventure parks in order to enhance safety. CLiC-iT removes the possibility of participants being able to unintentionally take both safety devices off the safety cable while they are on the aerial course.
Adrenalin Forest's founder and director Jean Caillabet says, "Adventure parks challenge visitors by providing an aerial experience that's exciting, adrenalin filled and, at times scary. While this business provides thrills, we're essentially about making safety fun because if we were to slip up, we wouldn't have a business.
"The investment in the CLiC-iT PRO 21 safety system has transformed our business: our people are now able to spend more time encouraging, helping and assisting people with the challenges as opposed to 'supervising' them, in the knowledge that safety is largely taken care of. This makes for a much more enjoyable and rewarding experience than before for all parties."
Caillabet was so impressed with the CLiC-iT system that he recently became the New Zealand agent for the company.
CLiC-iT recently introduced a second system for industrial applications, CLiC-iT PRO 60. While the PRO 21 system is ideal for zip wires in adventure parks, the PRO 60 system has been developed to keep operators safe while ladders, wind turbines, building scaffolding, radio masts and similar aerial situations where there is the ever present need to prevent a the user becoming detached, with all the risks that may result.
Stress, fatigue and a lack of attention are high-risk factors for workers operating high above the ground. The CLiC-iT dual-leg lanyard prevents accidental inadvertent unhooking because if the operator opens one gate, the other locks, preventing a fall.
The system secures the operator to the structure or ladder, without the need for a lifeline throughout the climb and subsequent descent. It locks onto all types of anchors, up to a maximum diameter of 60 mm. The inbuilt grip handles extend and protect the users hand for safer and faster vertical movement.
Jean Caillabet says, "We believe CLiC-iT provides the best possible fall protection system for industrial applications. It prevents operators working at height from unintentionally becoming unconnected between anchor points and the risks resulting from that happening."
ENDS
[1] CliC-iT® is a patented safety hooking system which synchronizes the open/locked positions of the two carabiners At least one of the carabiners is always locked which means the accidental release of both carabiners at the same time is impossible*.
About Adrenalin Forest
The first Adrenalin Forest adventure park opened in Christchurch in 2006. It was established by Jean Caillabet, a French citizen who moved to New Zealand earlier that year. Caillabet, a former mountain guide, rock climbing instructor and kayaking coach, then expanded the concept opening a second park in Wellington in 2010 and a third in Bay of Plenty the following year.
Planning for a fourth park is underway and is expected to open next year.
Each venue provides an aerial obstacle course set amongst trees, with more than 100 challenges across six or seven levels.
Every level is progressively harder, starting at 1.5 metres above the ground and progressing over 30 metres amongst the tree tops at the sixth level. It takes around three hours to complete the entire course.
The courses range from a variety of bridges, wires, swings and flying foxes. Visitors can also hire a GoPro HD camera to record their adventure.
Adrenalin Forest is suitable for active people of all ages (from 1.3 metres in height) and attracts over 80,000 participants a year.
Affordable, fun and challenging, Adrenalin Forest is fast becoming the number one adventure tourism experience in New Zealand.